HELINKS STS - IED manufacturer independent IEC61850 Engineering Tools
HELINKS STS is a tool set for IEC61850 based Substation Automation System Engineering (SAS Engineering). It is designed to support a device independent top down engineering process according to part 4 and part 6 of the IEC 61850 Standard. The tool set comprises a
•System Specification Tool, a
•System Configuration Tool and a Various utilities for SCL Handling.
Advanced graphical editors (Single Line Editor, Function Diagram Editor, and System Diagram Editor) serve to build the SCL files for an SAS project.
Additional features are:
•Excel Import/Export of Signal List
•SCL import and export
•SCL direct editing and validation
•Signal Engineering
•Communication specification
•Automatic generation of IEC 61850 communication configurations (MMS Reports, GOOSE)
•Advanced documentation features
Options:

Utility Packages serve to customize engineering data and process to meet utility specific needs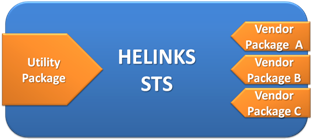 Vendor Packages are plug-ins for Helinks-STS which provide improved support for a particular IED manufacturer. The automatic generation of an SCD communication configuration generally requires a Vendor Package in order to take into account specific options of this manufacturer. Available Vendor Packages are most of the actual vendors.